With the Bears playing back-to-back prime-time games (Monday night in week 3 against the Packers, and Sunday night in week 4 against the Giants), we decided to make more of a dinner-and-drinks event of it both times. We ventured to Windy City Pizza for both games to enjoy them with fellow displaced Bears fans. While the results of the games were split, the experience at Windy City was largely the same.
Location
Windy City is a place I know pretty well. It's located in San Mateo, which happens to be where I work, so it's a frequent lunch destination. It was first suggested to me as a pizza place in response to my frequent gripe about the lack of any really good pizza in the Bay Area. More on the food in a bit, though.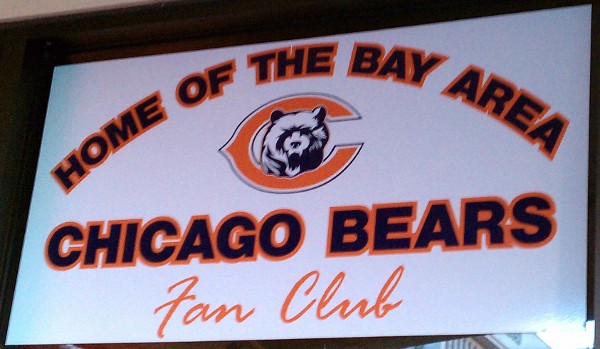 While San Mateo is a pretty central location for people coming from any direction, it's not really ideal for any of them. There are two Caltrain stops in the city, but neither one is within walking distance of Windy City. It's also far enough outside San Francisco that people who live in the city don't usually want to venture down, and it's a good 45-minute drive for people from San Jose. So central though it may be, it's not exactly convenient for anybody. This is Windy City's biggest strike against it.
Layout and Coverage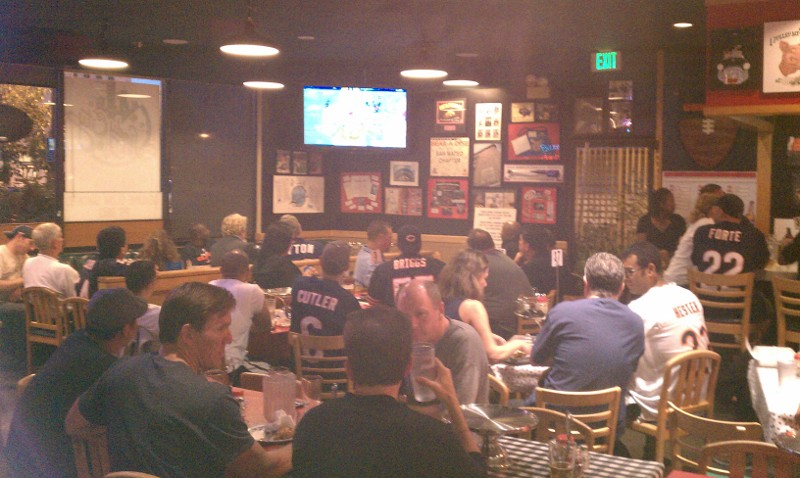 Inside, the feel is that of a family restaurant. There are lots of tables that all seem a bit too close together, and several booths in the back. The dining area is divided into two large sections: the primary area includes the bar and kitchen counter where you can order your food and drinks, and the secondary area has more seating for larger groups or families, as well as a few video games.
Windy City has recently upgraded their TVs from an outdated rear-projection screen to several wall-mounted LCDs, which is a welcome change. None of them are in ideal game-watching locations, but there are several TVs arranged throughout the dining area, making it easy to follow the game while you eat your meal.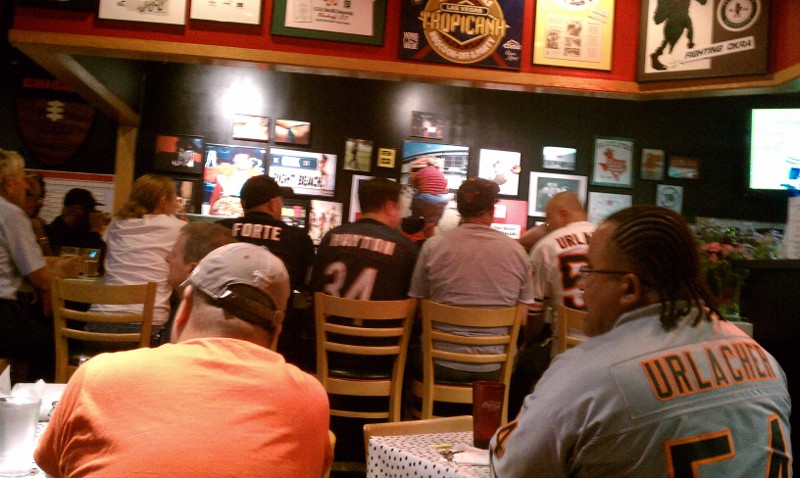 If you opt to sit at the bar—something only a dozen or so people can do at any given time—there's a nice large screen behind it.
This being the "Bay Area home of the Chicago Bears," the coverage focuses on the Bears game. I haven't made the trek on a Sunday morning, so I can't comment on their general gameday coverage, but in these two instances the nationally-televised Bears games were on every screen, as you'd expect.
Crowd
The best part about watching a Bears game at Windy City is that it feels like home. Not only is the place filled with Bears fans, many of whom are sporting jerseys and other color-bearing apparel, but the majority of them are also transplants. You'll hear a lot of Chicago accents here, and see some mighty mustaches that remind someone like myself of home.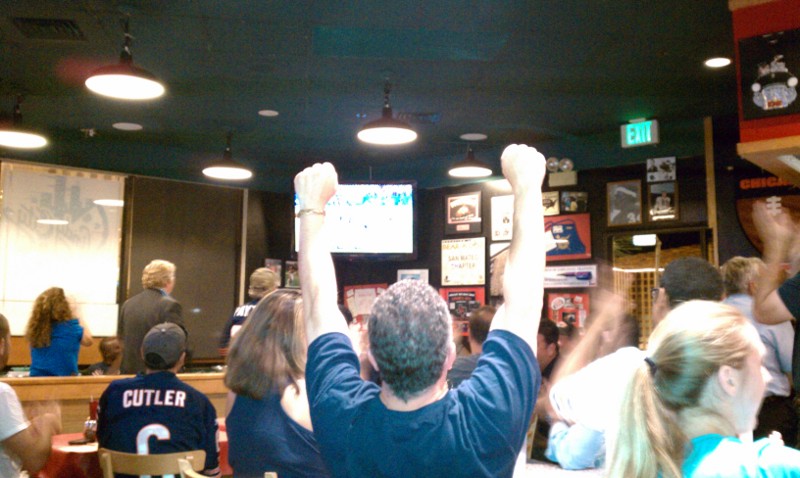 For Bears games, the crowd is rowdy and boisterous. They'll cheer for the Bears and boo for the opposing team, as you'd expect, but they also add a nice touch: every time the Bears score, the whole crowd breaks out into a coordinated singing of "Bear Down, Chicago Bears," with a ringleader holding up a sign with the lyrics on it to make sure everybody can participate. It's a little bit of Soldier Field transplanted to San Mateo.
Food and Drinks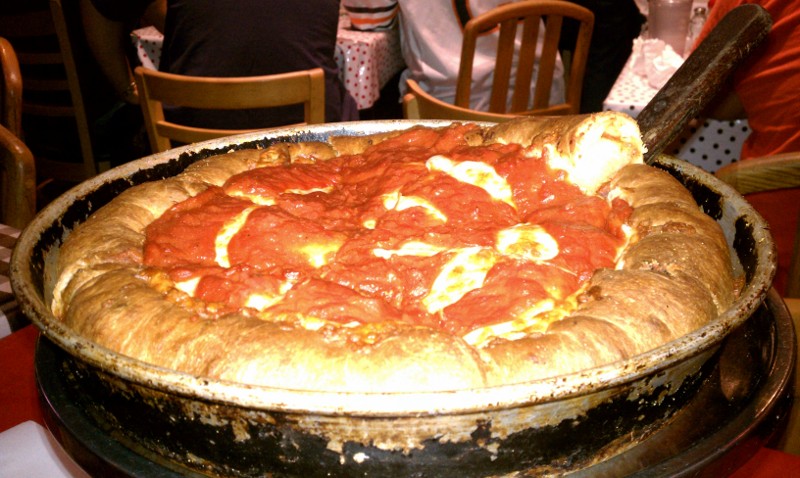 The food at Windy City is very good. They feature a mixed menu that's half Chicago-style favorites and half Texas-style BBQ. The Chicago fare includes pizzas, beef sandwiches, and hot dogs, all of which are really close to what I would consider authentic, but not quite the same as what you'd actually get back in Chicago. Before getting into the pizza, though, I should make a special mention of the Italian beef sandwiches, which I sometimes get when we go here for lunch—it's the only place outside of Illinois that I've ever seen actual giardiniera peppers, and they are spot-on.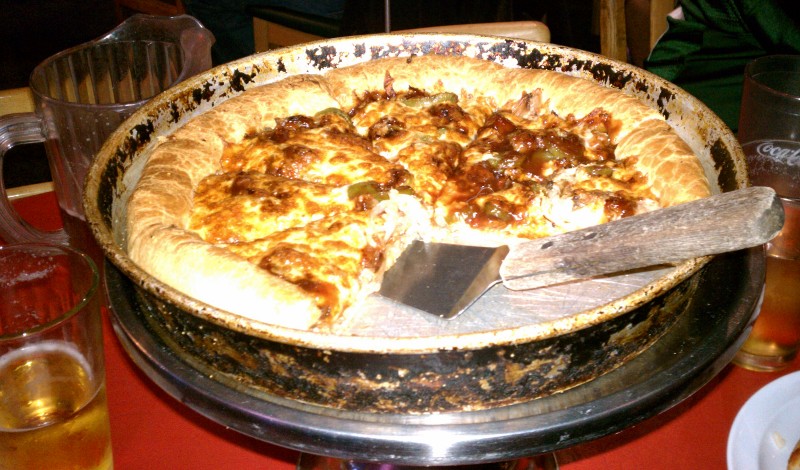 Both times we got pizza, as we almost always do. For week 3, we went with a ham/pineapple/onion/bacon deep-dish. For week 4, we actually considered going with a BBQ plate instead, but backed out because we like their pizza so much. So we split the difference and went with a pizza with BBQ pork. Both pizzas were awesome, as usual. The crust is extremely buttery and thick, and there's ample amounts of cheese everywhere. The sauce is a little sparse, and they put it in rings on top of the cheese rather than completely covering it, but it's pretty good as well. You can feed 4 people easily with a single medium pizza—2 slices is enough to fill anyone up, making the $25ish price tag quite reasonable.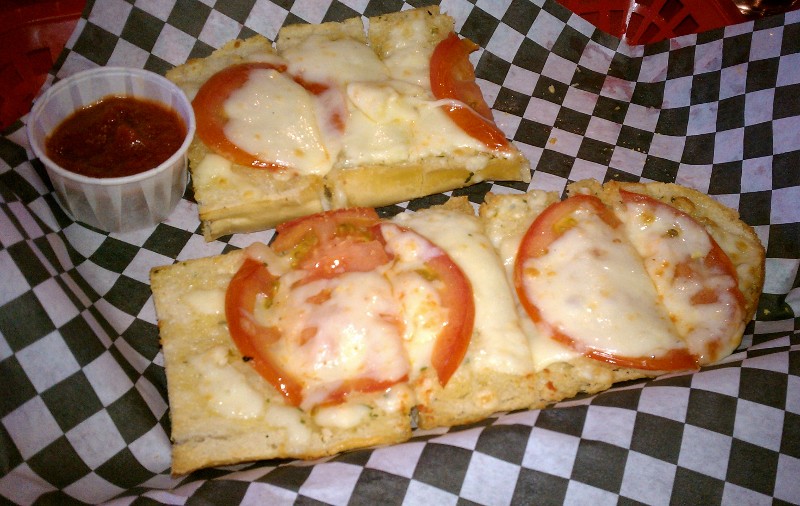 We also got some cheesy garlic bread as an appetizer, which is nice when you're settling in for an entire game—and the pizza takes a good 45 minutes to cook anyway. The second time we added tomato slices to the bread, which made it even better.
The drink selection at Windy City is a little sparse, but decent enough. They typically have drink specials during Bears games, and for every trip to the bar you get a raffle ticket for various Bears merchandise. The downside to the beers—aside from somewhat of a lack of selection—is the price: we usually get pitchers for $14. That's the regular price for Coors Light, or the "special" price for better beers during games (Kona Longboard or Stella Artois are our usuals). Still, though, you get frosted glasses to drink it out of, and the beer is always cold and the service friendly, and the prices are pretty typical of the area.
Intangibles
One thing that perpetually annoys me is a place that can't settle on an identity. You see this a lot with sports bars—they'll claim to be the "official bar of" or the "home of" like 3 or 4 different (and unrelated) teams. Windy City falls into this category with their Chicago-slash-Texas motif.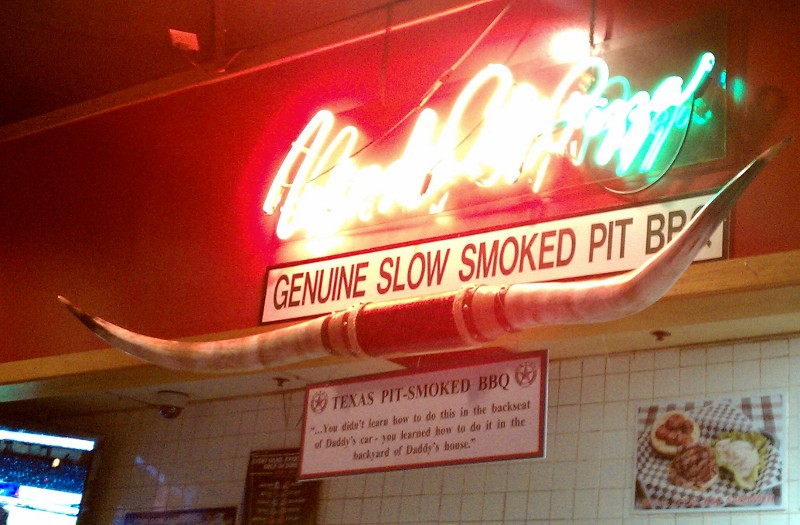 They're mostly a Chicago place, not just with the food but also with the decor (lots of pictures of Soldier Field, Wrigley Field, and other recognizable Chicago venues). But then they also have this Texas sub-personality, like they weren't willing to go all the way with the Chicago thing (or they thought it wasn't enough). The BBQ always looks and smells good, but I've never tried it because I go here for Chicago-style pizza. I suppose it might be nice to have alternatives if you're in a group and not everybody wants pizza, but it still doesn't quite make sense to me. It's like they're not willing to go all-in with the Chicago thing, and that annoys me a bit.
The other missing piece comes in the game area. They have a few out-of-date arcade games, but if they were really a Chicago place, they'd have a Golden Tee machine. This is another thing that makes me think they're not willing to go all the way with their Chicago persona.
One nice touch is that Windy City is the home of the Bay Area Chicago Bears Fan Club. During games, the club is well-represented, and the president, a nice guy named Dave with one of those aforementioned mighty mustaches, is jovial and friendly. He does a good job organizing things, keeping the crowd involved in the game, and running an email list for Bears fans to commiserate on.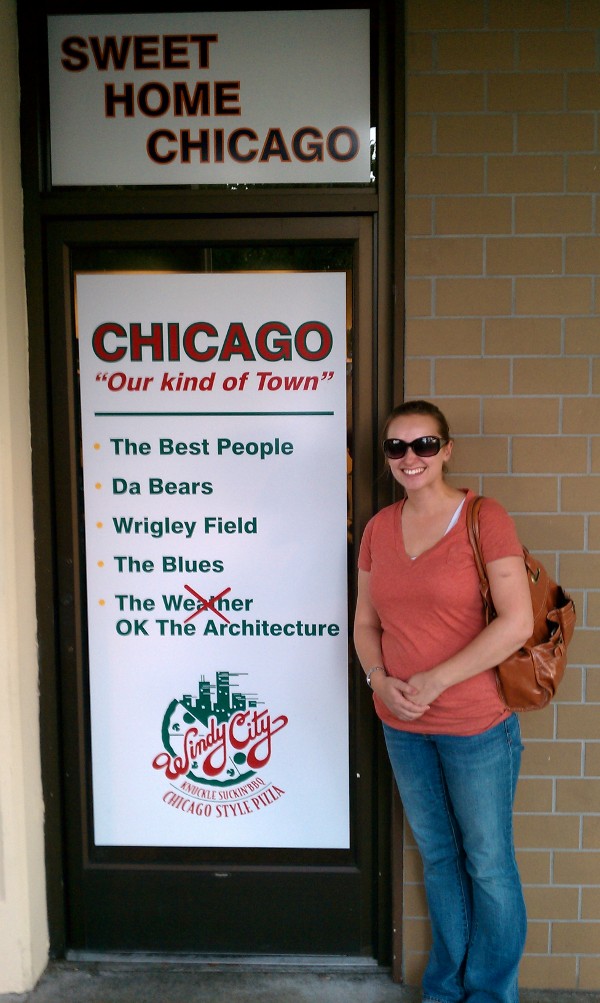 Summary
The atmosphere at Windy City is welcoming, the food is good, and it's a great place to watch a Bears game. There are a few things they could do to complete the facade, but overall it's a pretty respectable effort at capturing the feel—and taste—of a Chicago-style eatery. It's a bit of a pain to get to, but it's worth the trouble, especially during Bears games.
As it's more of a restaurant than a bar, it's not exactly the kind of place that could really become a hang-out, and that helps minimize the effects of the poor location. (It's not like it needs to be convenient for daily happy hour visits anyway.) We haven't fully judged it as an all-out Sunday NFL-watching destination, but for a change of pace during Bears prime-time games, it's hard to beat.
Scorecard:
Windy City Pizza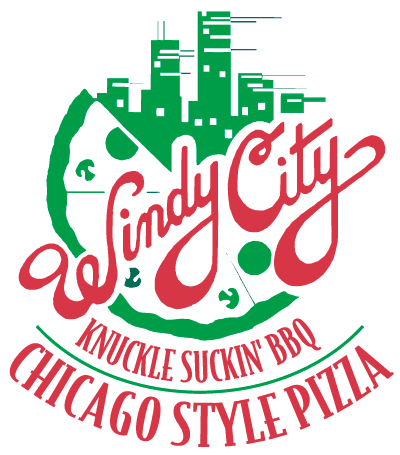 (
Yelp Link
)
| | |
| --- | --- |
| Location: | |
| Layout and Coverage: | |
| Crowd: | |
| Food and Drinks: | |
| Intangibles: | |
Comments Off on Bar Search Weeks 3+4: Windy City Pizza