The Largo film that I previously wrote about is featured in an article in the current issue of Filter magazine, available now. Andy, my friend behind the film, had this to say about it: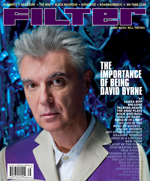 Check out the new issue of Filter magazine (w/ David Byrne on the cover), at newsstands and bookstores now through February, for a great article on Largo and my upcoming concert movie. The article is called, "Exalting the Artistic Moment: The Meaning of a Place Called Largo." For those of you who aren't already familiar with the club it's a good primer on its history and what makes it special.

The article also features a lot of stills from the movie, a great shot of Elliott Smith by photographer Autumn de Wilde, and interviews with myself, club owner & co-director Mark Flanagan, and performers Jon Brion, Aimee Mann, Mark Oliver Everett (E from Eels), Zach Galifianakis, Tom Brosseau, Grant-Lee Phillips, and Paul F. Tompkins.
The film sounds like it's on track for its targeted February 2008 completion date. Hopefully I'll be headed out to LA around that time to see the first screening of it there, followed by TriBeCa in late April/early May. Pretty exciting.