Posted by mike in
Sports
at 11:08 am on March 8, 2008
Douchechills: noun; 1: A sense of sympathetic embarrassment 2: That feeling you get when you're ashamed to be associated with a group of people due to their actions
Since today is the last home game of the Illini basketball season, it's time to talk about something that's been going on at the games this year that was hopefully only a one-year occurrence during what I can only assume is an awkward transition period: although Chief Illiniwek was retired at the end of last season, the halftime ritual has not changed except for the deletion of his performance during it.
This wasn't such a big deal during the football season, as in that case the marching band still takes the field at halftime, and watching them perform can be quite enjoyable whether there's a dude dancing around in the middle of their formations or not. During the basketball halftimes, though, there's nothing going on except for the pep band playing the familiar "Three in One" in their usual spot (behind one of the baselines). And yet, the vast majority of the people in the crowd act as if the Chief is still out on the court doing his dance. They call for him before the imaginary performance begins, and chant "Chiiieeeeeeefff" after it ends. Their cheers increase–in sync–at the point where he used to increase the intensity of his dance; many members of the crowd even let out an extremely inappropriate (and very embarrassing) "cowboys and Indians"-style ululation at this point.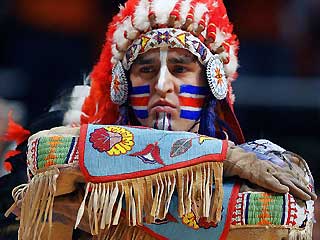 When the nonexistent dance is over, everybody folds their arms across their chests, as the Chief used to do at the completion of his dance, as they stoically stand in a show of faux somberness. It gives me the douchechills every time.
2 Responses to "Mass Hallucination":
Well by the time last year's freshman graduate in 3 years, no students will have seen the Chief dance so this is likely to cease by then. Of course, I'm big on tradition. Speaking of which, you should hear the ruckus the fans are making in Wrigleyville because of Sam Zell, with the possibility of home Cubs games at the Cell. Of course a lot of this has to do if they soften the Wrigley landmark status, which of course would set a disasterous precedent.

An interesting (and also pretty embarrassing) postscript to this: some fan took it upon himself to dress as the Chief and walk around Assembly Hall during halftime. Not much coverage of this, but the DI article has a couple pictures of it (view their slideshow, pictures #26 and #29).