This is our third NFL season spent in the Bay Area, so we've decided it's time to get out of the house a bit and find the ultimate San Francisco football bar at which to watch games on Sundays. Megan and I, along with some friends, are planning to spend each Sunday this fall exploring a different bar, and I'm intending to report on and rate each one. Our primary goal is to find a Bears bar, but we're open to anything that makes for a good place to watch football in general.
Being as this was opening week, we didn't want to stray too far into the unfamiliar while establishing our new Sunday routine, so we stuck with something we know: Pete's Tavern in Mission Bay, right across the street from AT&T Park. Pete's is familiar to us not only as a favorite Giants pre- and post-game hangout, but also because 66% of our group (two of the three couples) lives in the Avalon apartments just a couple of blocks away.
I've devised a set of 5 criteria that I'll use to judge the places we visit: Location, Layout and Coverage, Crowd, Food and Drink, and Intangibles. This being week 1, I'll explain what I mean by each of these along the way. Because I'm lazy, I'm using the same star ratings here that I use for my movie reviews, but obviously my explanations don't apply here; what's important to know is that it's a 4-star scale.
Location
There are two main factors that contribute to my judgment of how good a bar's location is. First, since Megan and I live outside of the city, and because we're going to be spending all day drinking there, it needs to be accessible by public transportation. Second, it needs to be in a good neighborhood; by this, I don't mean an area without much crime (although that's nice too), I mean somewhere with a lot of like-minded people, as well as other options for bar-hopping in case our primary choice doesn't suit our needs. Having options for places to eat in the vicinity is a plus, too.
Pete's is conveniently located 2 blocks away from the 4th and King St Caltrain stop. This makes it really easy to get to for those of us coming from outside of the city. The only downside is that the Caltrain only stops in South San Francisco (where we're coming from) once an hour, so in order to arrive in time for kickoff, we have to catch the train at 9:08am. While this makes for an early morning, it puts us at the bar in time for them to open the doors at 9:45am.
The neighborhood is a little lacking in other options, but Pete's is a known quantity, and when we go there the odds of having to come up with a backup plan are low. So it mostly gets a pass on this point, even though if we chose to leave Pete's and go somewhere else, it'd likely involve a short cab ride.
Layout and Coverage
Being as our primary purpose here is to watch football—and given that I'm wasting the $300 I spend annually on Sunday Ticket by going to a bar in the first place—any location we try has to have every game on. This means they must have many TVs, they better all be HD, and they need to have a barstaff that's savvy enough to make sure every game is viewable. (I can't tell you how many bars I've been to in the Bay Area where the employees have no idea how to find a game on TV when requested—never mind that a true sports bar should preempt the need for such a request in the first place.) On NFL Sundays, the more games I can see at once, the better—I've got a lot of fantasy players and various bets that need monitoring.
Pete's has a fantastic setup for watching sports in general. They have two huge projection screens, and several large LCDs well-distributed throughout the bar. Everything is in HD. The horseshoe shape lends itself well to providing good viewing angles for several screens at once. They have Sunday Ticket, and their bartenders are knowledgeable sports fans who know enough to make sure that every game is on at least one screen.
They get docked points for only having a single TV with the Bears game on it, despite our group's protestations to the contrary. They chose the Patriots-Bengals game to get the primary projection screen and the PA system, which I found to be a surprising selection, but not necessarily a bad one. Most other games were on two screens at opposite sides of the room, meaning everybody present had a pretty good chance of being able to see the game they most wanted to watch.
They also have a sizable upstairs area with additional screens, but this was blocked off for a 49ers party (which, presumably, started around 1:00pm). By the time the afternoon games rolled around, I didn't notice whether anybody was up there or not, but for the first 3 hours we were there it definitely seemed like a waste of space.
Crowd
A good football bar crowd is hard to find: there's a fine balance that must be achieved. It's fun to have representatives from many teams present, and in a city like San Francisco where there are so many transplants, this part is almost a given. While it's enjoyable to have people rooting for every team (or close to it), you don't want any one group of fans to overpower the others, unless you're at a place that explicitly identifies itself as a bar for that team's fans. As far as capacity goes, while half the fun of going to a bar to watch games is experiencing NFL Sunday with strangers, I don't like the place to be too packed. A good layout has a lot to do with this, too, but a place that packs people in is going to get docked significantly—as is a place that tends to attract overly-boisterous assholes.
Being right across the street from AT&T Park, Pete's is in an area that tends to live and die by the baseball season, and more specifically the Giants' schedule. Since the Giants were in San Diego this weekend, there wasn't a lot going on around the ballpark when we arrived. A small crowd (maybe 15 people) was gathered out front waiting for the doors to open, so we were able to have our pick of seats at the bar without having to feel like we were the only ones ordering beer in public at 10 o'clock in the morning.
We were pleasantly surprised by the number of Bears fans who filed in, taking up a large table on our side of the bar. This gave them a great view of the single TV dedicated to our game, but it also made the decision by the barstaff to not put the game on another screen more questionable. There were even a few Detroit fans there, and yet for some reason our game got the same status as the Miami-Buffalo game (which I'm pretty sure nobody was actually watching, aside from the occasional check on fantasy and gambling implications it might've had).
There were fans from several other teams, as is to be expected, and they were all courteous and friendly from what I saw. The overall ambiance was that of a general-purpose football party. I'm sure being the first week of the season has something to do with this, since nobody (other than Saints fans, maybe) has much justification to be overly cocky or boisterous. Still, though, the crowd was consistent with what I've seen every time I've been to Pete's: passionate sports fans who are nonetheless fun to be around, even if they're rooting for a different team than you.
Food and Drinks
As it's a bar we're going to, it should come as no surprise that we're there to drink. Well, watch football, and drink. It's really a 1a-1b situation, and I'm not sure which is which. So having a good selection of drinks—beer in particular—is important. Being a Midwesterner, I'm partial to Miller Lite. I think the old "Great Taste/Less Filling" slogan rings true: it tastes good, and I can drink it all day. But on the West Coast it's sometimes hard to find my beer of choice, so that's a big criteria for me. Cost is also a consideration, but this being San Francisco, it's pretty safe to assume that everything will be expensive. Additionally, since we're going to be there for several hours, food is an important factor. We're most likely going to be looking for bar food, but quality bar food, and the service needs to be acceptable. Price is a consideration here as well, naturally.
Pete's scores high marks on all counts. They have somewhere in the neighborhood of 20 beers on tap, and many more available in bottles. Most beers are about $4, including Miller Lite (which they only have in bottles). This is surprisingly reasonable for the area (across the street during baseball games, you'll pay $8.25 for a pint). They were also serving mimosas, the breakfast drink of choice for many, and while our party didn't order any of these, many people around us did, and all seemed to really enjoy the option.
The food is fantastic. On Sunday mornings, Pete's offers breakfast, and everybody I saw opting to go this route did not regret it. I had the huevos rancheros, and it was probably the best such plate I've ever eaten. They deep-fry the tortillas, making it a sort of breakfast-Mexican pizza. It was awesome. Megan waited a little longer and got the Western burger, which she reported was also terrific—and its grilled-beef smell was enjoyed by everybody in her immediate area, too. For additional dining options, there's also the adjoining cantina (owned by the same people), Pedro's. (The two establishments are connected, which has the added benefit of providing twice the restroom capacity.) Prices on food are quite reasonable; the average meal was about $10-11.
Intangibles
This category is for anything that's not covered by the other four already mentioned above. It can include anything from quality of bartenders to cleanliness of the bathrooms.
In terms of intangibles, Pete's can't be beat. Partially due to the fact that the others in our group are regulars, but also simply as a general manner of course, we got impeccable service. The six of us sat at the bar and were never wanting for drinks. Our bill was surprisingly low when we finally left around 4 in the afternoon, and we had fun bantering with the ladies behind the bar the whole time we were there. They're welcoming and friendly, and they know their sports.
Due to the NL West playoff race going on, there was a nice segue from the early football games into the Giants-Padres game, which got equal screen estate with the 49ers-Seahawks game. The crowd and atmosphere adapted into a decidedly San Francisco setting in the afternoon, and it's fun to enjoy the games with the hometown fan base.
The final point in Pete's favor is their bathrooms: while they're downstairs, making for potentially dangerous stumbling on your way there and back, they're extremely clean and have plenty of capacity. Whenever I'm at Pete's, I find myself surprised and impressed by the clean, glistening chrome-handled sinks, and the preponderance of high-quality paper towels on and around them. It's things like this that really make for a comfortable and enjoyable bar experience for me.
Summary
I already knew Pete's as a great place to watch games, and NFL games are now included in that reputation. They have lots of screens and they know how to use them, the crowd was just about right, and the food, drinks, and service were all great. They're not going to be our Bears bar of choice, but as a general-purpose football-watching bar, Pete's is a definite winner.
Scorecard:
Pete's Tavern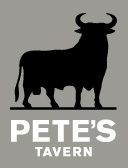 (
Yelp Link
)
| | |
| --- | --- |
| Location: | |
| Layout and Coverage: | |
| Crowd: | |
| Food and Drinks: | |
| Intangibles: | |