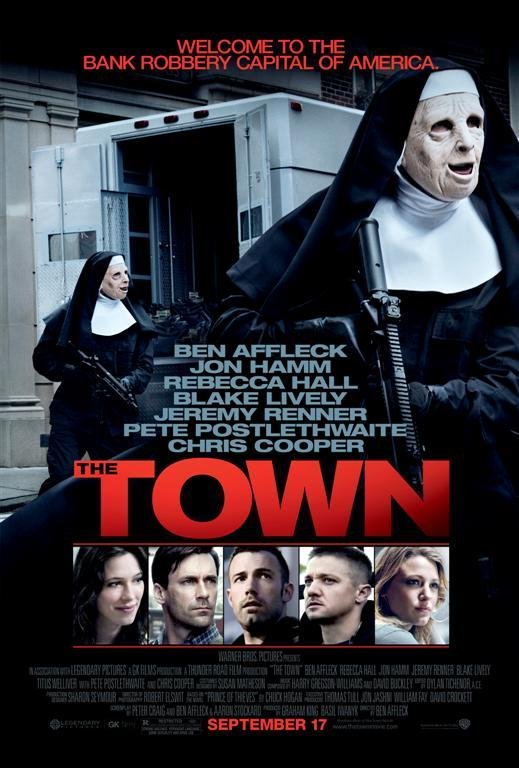 Status: In theaters (opened 9/17/10)
Directed By: Ben Affleck
Written By: Peter Craig and Ben Affleck & Aaron Stockard
Cinematographer: Robert Elswit
Starring: Ben Affleck, Rebecca Hall, Jon Hamm, Jeremy Renner
Doug MacRay (Ben Affleck) is from Charlestown, an area of Boston known for the amount of bank robbers per capita it sports. Doug's a prime example: his father (Chris Cooper) was a stick-up man, and Doug is following in the family tradition. There's a scene in The Town where Doug visits his old man in prison—it's Cooper's only scene in the film, but he's amazing in it, as he always is—and it really drives the point home that not only is crime a way of life for these people, but there was never really any other option to begin with. The younger MacRay was good at hockey; he even got drafted. But the lifestyle he grew up around is like a magnetic force that he couldn't pull away from.
Doug's best friend is James Coughlin (Jeremy Renner). Jim did 9 years for murder, and now that he's finally out, he's itching for action. Renner is nearly the highlight of the film in this role; he's a cocksure, tightly-wound spring, and you're waiting for him to burst at any moment. His performance in The Hurt Locker was no fluke—he's an actor whose portrayals have the kind of depth that sucks you in, making you root for him even though you know you shouldn't be.
Doug has a history with Jim's sister Krista (Blake Lively). She's the kind of townie girl who I wish I could say I wasn't all too familiar with: a single mother with multiple substance-abuse problems, her kid has an idiotic name ("Shine" in this case) and you know she's unfit to parent. Yet she, too, draws your sympathy. Blake Lively really shocked me in this role; she doesn't play Krista as just a fine piece of ass—though she is, by all means, that—but also as a conflicted person who's trying to find her own version of what's right, and just can't seem to get her sights set correctly.
There's a theme here, and it's no coincidence: The Town is a strongly character-driven piece, despite what its facade of being a cops-and-robbers movie might lead you to believe. It's good at that, too, mind you—particularly with Jon Hamm heading up the side of the good guys as an FBI agent hot on the trail of Doug and Jim's crew. But what sucks you in, what makes you care, is that the performances are across-the-board spectacular, and the characters are all so well-written that you feel like you know them right from the start, and you'll root for them throughout.
There are three big heist scenes in the film, and they offer a nice progression. They also serve to bookend the story and anchor it in the middle with reminders of what these guys are really all about. They're shot and edited with the virtuosity you'd come to expect from a director known for doing this type of thing, but here it's Ben Affleck at the helm, and he owns it. Affleck loves Boston, and we all know that; there's the expected aerial establishing shots, lovingly framed to show his home town in its best possible light. We see the Bunker Hill Bridge, and that too anchors the film, reminding us not only of the town that these characters can seemingly never leave, but also serving as a strong and effective metaphor for their plight in general.
The complication to this story—the rub, as it were—comes when Doug falls in love with the manager of the bank his crew robs in the film's opening sequence. Claire (Rebecca Hall) is what the locals call a "toonie": an out-of-town yuppie who's come to Charlestown and doesn't fit in, not that she's really trying to. Doug sees her as his chance at escape, an opportunity to find a different life and to have somebody to find it with. For the character to work, you have to sympathize with him, and it's hard not to: Hall plays Claire not as a naive country girl, but as a savvy and likable woman who just happens to have had some bad luck, and is willing to give something different a shot as a result. She's not terribly far removed from Vicky, but Rebecca Hall is a versatile enough actress to use the same sort of down-to-earth charm we saw Woody Allen draw out of her so well, and add some additional depth to it.
Affleck the director loves Hall, too—maybe not as much as he loves Boston, but pretty close. He's infatuated with shooting her in close-up, accentuating her toothy smile and drawing the audience in to the appeal his character sees in her. It's an effective directorial style, and even if he does overuse it a bit, seeing Hall's pretty face fill the frame provides for a nice contrast to the more chaotic action sequences.
I thought that Gone Baby Gone was a well-crafted film featuring great performances from a terrific cast; it's impressive that Ben Affleck has already been able to progress even beyond that achievement with The Town. It's another well-crafted film, one that also showcases the work of an extremely talented collection of actors. In their sophomore effort, though, Affleck and co-writer Aaron Stockard (working from a screenplay by Peter Craig) have upped their game; the story is more ambitious and more cohesive, and Affleck's direction has risen to the challenge. This time he casts himself as the star, too, as if we needed any further evidence that the guy can do it all.
2 Responses to "To the Filter":
Yeccchhhh! "The Town" is an overrated, hyped-up piece of junk that tries so hard to be good that it's horrible, if one gets the drift. The beginning of "The Town", along with the opening heist, was interesting enough, but "The Town" went from being okay to being just plain awful, in a matter of minutes.

I also might add that Claire isn't such a beauty, either. She's very sallow-looking, her features seem really overemphasized, her smile too toothy and gummy, and her hair just hangs down like a limp, thin rag. Plus, she's basically got nothing between the ears, either, despite her history as a bank manager, as her involvement with Doug, the defacto leader of the men who knocked over her bank, kidnapped her and took her hostage, indicates.

Don't try to trick me! Ben Affleck sucks and you know it. I refuse to watch this movie bceuase everything that Ben Affleck touches turns into a steamy pile. I don't think you even watched this movie. I bet if I searched the interwebs I'd find this same review word for word on another site, and that site would be owned and operated by Ben Affleck.